Editor's note: This is the final article in our four-part series on improving revenue cycle management in your medical practice. In case you missed it, check out part three, Rule-Based Procedure Coding.
Once a patient visit is complete, it's time to build a claim and submit it so you can get paid. When you receive payments from an insurance company, it's a good idea to set up your practice management software to post these payments automatically. The ability to auto-post payments to corresponding claims is a standard feature of most medical billing software. Because payments post directly to the patient account, auto-posting will simplify your workflow and ensure patient records are always current — saving you both time and money.
What if I have to post payments manually?
You may receive a paper explanation of benefits (EOBS) that you will need to enter manually, but much of the payment posting process can be automated. Many of these payments could be electronic funds transfers (EFT), so you will not receive paper checks.
In some cases, insurance companies may contract with an outside party to pay their providers via a virtual credit card instead. Insurance companies do this because they make a bit of money from the credit card processing fees that are incurred and paid by you. This can be anywhere from 3% to 5% of the transaction amount. It saves the insurance company time because they don't have to mail a check, but it is at your expense.
Unfortunately, this practice is becoming more common. However, many front office and billing personnel don't know they can opt out and end up essentially giving away a portion of the provider's earnings. If you want to go back to electronic or paper payment options talk with the payer to find out what you need to do to make the switch.
How do I check the status of my insurance claim?
If an insurance company does not send you a paper EOB, you should be able to view it online using the payer portal. The portal will allow you to download the EOB and post payments directly. Once you have access to the payer portal, it's important to reconcile these payments with the ones you receive directly through electronic funds transfer.
BEST PRACTICE: It's a good idea to run a reconciliation report monthly so you can show the provider that the payments you have received match what you have billed. If a payment came into the bank and you didn't see it posted in your practice management software, that payment is missing. If a payment came in and didn't make it to the bank, that's also a problem. We recommend creating and documenting your process for reconciling payments to ensure all payments are accounted for.
What should a patient statement include?
Statements should be professional looking with the provider or practice name clearly listed at the top. The amount due and due date should also be very clear. Make sure there is a phone number for patients to call the billing department — whether in-house or outsourced — with any questions they may have. Every statement should also include a description or code for the services and/or procedures rendered, the insurance payment, and the patient responsibility that is now due. Absolute transparency is key.
Your practice management software should be able to bill patients automatically. By improving the efficiency of your billing process and educating patients on what they need to do next, providers can see an increase in on-time payments.
How often should I send patient statements?
Based on how busy the practice is, statements should go out on a regular schedule. For some this will be once a month, for others it can be once a week. It's important for statements to go out on a timely basis so patients receive a bill shortly after their visit.
Nothing infuriates patients more than getting a bill months or even years later and they have no idea what the bill is for. These statements have a very low likelihood of being paid, and even worse, it creates a poor relationship between the patient and the front office.
What is the most effective way to collect money from a patient?
Make it easy to get paid. Ask patients their preference for receiving a statement and enable them to make payments using whatever method is most convenient for them.
Do they want statements sent via email or text? Or would they prefer a paper statement sent by mail? When patients receive a statement in a way that is easy for them to pay and the statement is clear on what is owed, collecting payments becomes much easier.
What is the role of denial management?
Denial management and compliance play a key role in the revenue cycle. In fact, a 2021 survey of medical billing professionals found that 19.5% consider denial management to be one of the most stressful parts of their job.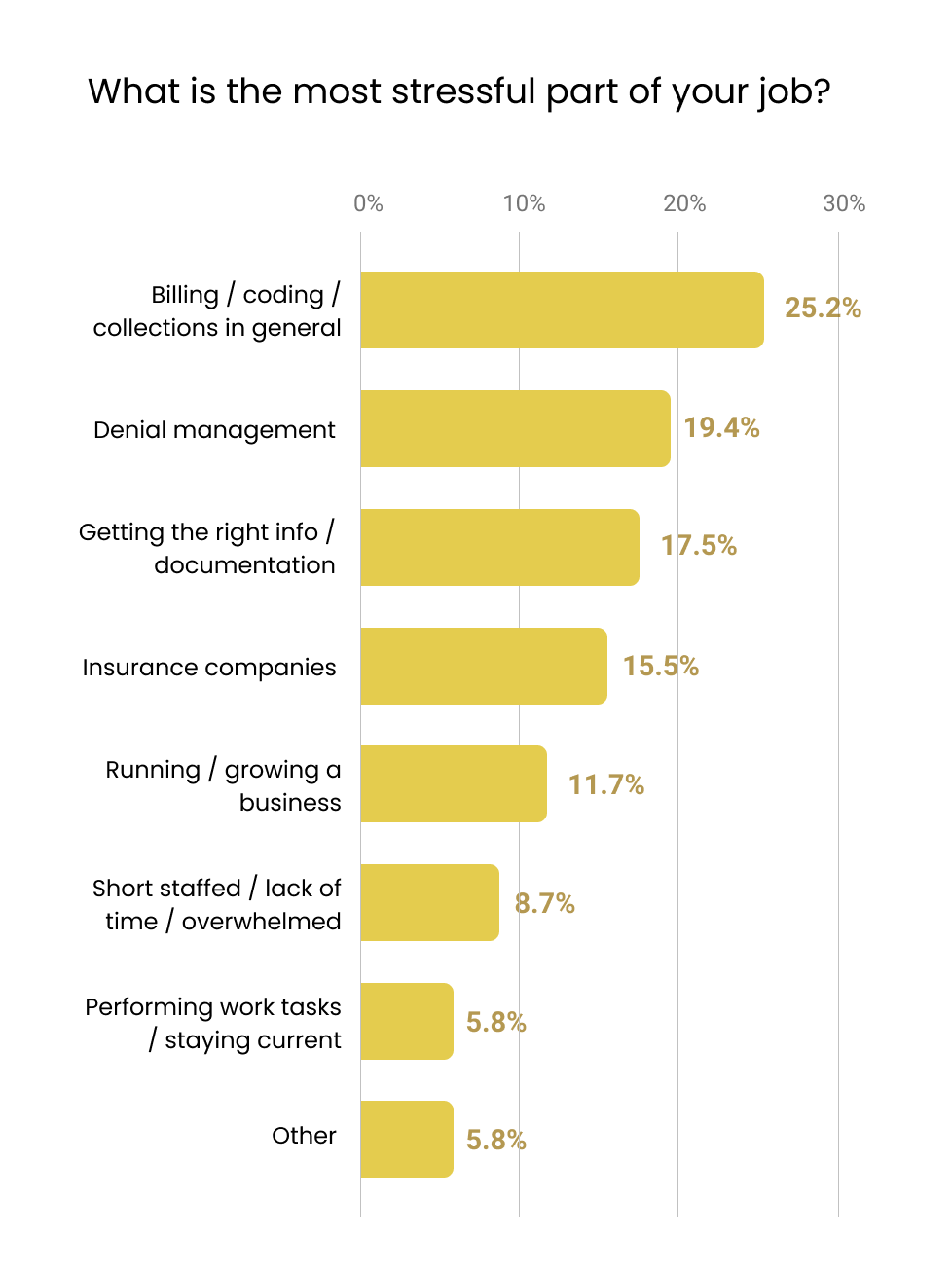 Before a claim gets processed by the payer, the claims go through multiple checks within the billing system and clearinghouse. Be sure to check rejections daily for any claims that are "stuck" and fix the errors to push them through. Once you receive a denial, follow a dedicated process to investigate every unpaid claim.
Below are four best practices to set yourself up for success.
1. Create a routine
Pull daily, weekly, or monthly reports for unpaid or denied claims. The frequency will likely depend on how many providers you are working with. Whether you are working with one doctor or dozens of providers, create a routine that's easy to follow and stick with it.
We recommend setting a schedule to work denials on a particular day of the week so you don't forget about them. If you're in a busy office and need to lock your door so you can work on denials, let your office know not to disturb you so you can get your providers the money they are owed.
2. Do your research
Register for payer portals to speed up your workflow. When you're working denials, instead of waiting on hold you will be able to see a claim status immediately. You can print the EOB and work the denial right away. For claims that require a phone call to a payer, start early in the morning. The person you need to speak with will likely be in a better mood and there's a good chance hold times will be shorter too.
If the payer asks you to submit medical records, it's much faster to upload to a secure payer portal or secure fax. You can also send documents via certified mail if a faster option is not available.
Make sure you get as much information on the denial as possible including who you spoke with, the date and time of your call, a reference number, and what you need to do next to get the claim paid. Remember, your phone call with the payer is being recorded, so it's important for you to have all of that information entered into your practice management software so you can go back and reference it later.
3. Resolve billing errors quickly
Take care of easy fixes right away. If you work for a billing company, you may wait for the practice to send you updated insurance information for a patient so you can resubmit a claim. You can speed up this process by communicating with the patient directly.
If the front office is following best practices this should not be a common situation. It's important to always ask the patient for their insurance card(s) and check eligibility before each visit. If this doesn't happen for whatever reason — there are two options. You can wait for the denial, let the office know that the insurance is incorrect, then wait for someone to contact the patient to get the correct information so you can resubmit it.
The other option is to call the patient directly after the "wrong insurance" denial. Let them know their claim has been denied and ask if they have an updated policy. This is by far the quickest method, because less people are involved in the process, and the claim can immediately be re-billed with a minimum amount of effort.
4. Follow up frequently
Review your denials list and follow-up every 15 days until the claim is paid or a resolution is reached. We recommend setting a reminder in your calendar and batching your requests to improve efficiency.
If you are struggling to get a claim paid and you believe the denial is not justified you may be able to request an independent dispute resolution process. It may also be helpful to ask for guidance from a professional organization.
Having a denial management plan in place will not only ensure you receive the payments you are owed, but will also help prevent the stress involved in managing denials. You will know exactly what steps you need to take each time you receive a denial and how to correct them. The result will be a healthy revenue cycle that allows you to focus on providing quality care for your patients.